Disclosure: This post may contain referral/affiliate links.
Your Own Personal Paleo Weight Loss Meal Plans
My friend Jedha has an awesome product for Paleo meal planning.  I'm not personally following Paleo to a T but I do like some of the meal options.  So healthy.
I'm most excited because the meals are simple for someone who doesn't cook. That would be me!  I have been cooking a bit lately and so far so good.
I only started planning our meals a few weeks ago and haven't been too sure about planning meals out in advance.  Probably because I have to come up with the meals every week. That's what I like about Jedha's e-book product, she has it all laid out for you.  My kind of meal plan!
She has it all laid out for the entire week.  Breakfast, lunch and dinner plus tips for each days meal plan.  And pictures!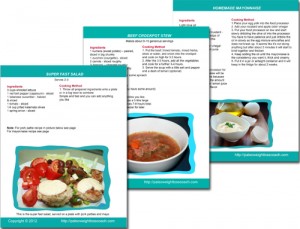 Be sure to head over to check out her Paleo weight loss meal plans and see all the mouth watering pictures of meals that take 30 minutes or less to make.  Since I don't eat meat, I will replace that with tofu, tempeh, or fish.
But for those of you who do eat meat, Jedha has recipes that would be perfect for you.  She has guest posted here on the blog before and shared her Bolognaise with Cabbage Noodles Paleo recipe.
I made her Lemon Pepper Fish recipe which was one of THE best meals we have had in a long time.  It was really so simple to make and not only was I impressed that I made an awesome dinner, Kev was too.  He really enjoyed it.
Next I can't wait to try her lemon pepper shrimp and of course her Thai Spiced Steamed Fish that you can see in the video below.

Sounds delish right?
I'm excited to share Jedha's new product with you and hope you'll check it out.
So what do you get for only $19.97?
Here's the list:
4 Week Paleo meal plans
Over 40 easy recipes
Printable recipe book
and a lot more!
Do you follow a Paleo diet?


P.S. Thank you Jedha for the opportunity to review your product.
P.S.S. Yes, I am an affiliate for Jedha's product.