Disclosure: This post may contain referral/affiliate links.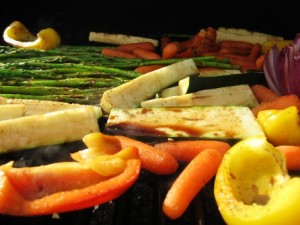 Please help me welcome our guest foodie blogger for the month.  My friend Scott will be sharing all kinds of healthy grilling tips for the entire month of May.  So be on the lookout every Tuesday for the next installment. Take it away Scott!
Summertime is almost here again and it's time to grill!  Grilling is a healthy way to cook…if you do it right.  There are concerns about grilling and cancer, but if you follow these healthy grilling tips, you'll dramatically reduce your risk and turn grilling into a safe, delicious, fun way to cook.  Here are 5 tips to get you started with healthy grilling.
Healthy Grilling Tip #1
Buy lean cuts of meat and trim off the excess fat.  The two substances that cause you problem in grilling are called heterocyclic amines (HCA) and polycyclic aromatic hydrocarbons (PAH).  These substances are formed when proteins in meat are exposed to high heat.  When fat from the meat drips onto the grill, forming smoke, or causing flareups, HCA and PAH can form and that's bad!  Buying lean cuts and trimming the fat will reduce that chance of those bad substances forming.  Less fat means less flame and smoke and that means healthier grilling for you.
Healthy Grilling Tip #2
Clean your grill.  Make sure your grill is clean before each use. This will reduce the build up of substances that can contain cancer causing compounds.  The easiest way to do that is to clean the grill each time just after use.   After you've finished cooking on your grill, let it cool down a little, but while still warm, use a grill brush (any stiff brush will actually do) and scrape off the pieces that are stuck to the grill grates.  Not only will you be making your grilling healthier, but your food will taste better as well.
Healthy Grilling Tip #3
Marinate your meat. One proven way to reduce the amount of carcinogens in grilled meat is by marinating the meat prior to grilling.  Not only does this provide a flavorful, moist dish, but studies have shown that a marinade of oil (olive oil works well) and an acid (like a citrus juice, or vinegar) makes a significant reduction (even as much as 90%t)  in the formation of carcinogens in grilled meats.   Here's one marinade to try.
Mix the following in a bowl and then use to marinate steaks:
1/4 cup olive oil
1/4 cup soy sauce
2 Tbsp red wine vinegar
2 Tbsp lemon juice
1 1/2 Tbsp Worchestershire sauce
1/2 Tbsp fresh ground black pepper
1 Tbsp Dijon style mustard
1/2 onion (sliced)
1 garlic clove (minced)
I find it easiest to marinate in a large zip lock bag.  Set the bag in a bowl, add the meat, pour the marinate mixture over the top, seal the bag (removing the air), and then turn the bag back and forth so all the meat is coated.  Let it set for at least a couple of hours in the fridge before putting on the grill to cook.
Healthy Grilling Tip #4
Cook your meats to the proper temperature, but no more!  This prevents them from being overcooked and possibly developing HCA or PAH.  Here are the minimum temperatures from the USDA:
| | |
| --- | --- |
| Ground Beef, Pork, veal, or lamb | 160 degrees |
| Ground Poultry | 165 degrees |
| Chicken | 165 degrees |
| Pork | 160 degrees |
| Beef, pork, veal, or lamb steaks or chops | 145 degrees and then let rest for at least 3 minutes. |
| Fish | 145 degrees |
If you like your steaks well done, cook them to 160 degrees, but no more.
The easiest and surest way to get meat to just the right temperature is with a BBQ thermometer.  There are some amazing thermometers that will let you know right when your meat is ready to come off the grill.
Healthy Grilling Tip #5
Grill some vegetables!  You could replace your grilled meats with grilled vegetables or at least add grilled vegetables to your meal.  Grilled vegetables don't have the same worry or concern as grilled meat in developing harmful substances.  A slight char will actually bring out an incredible flavor with most vegetables.
Some of my favorites include grilled corn on the cob, grilled asparagus, grilled tomatoes, and grilled peppers.  Most veggies are delicious when grilled with just a light coating of olive oil and a sprinkling of some spices.  Salt and pepper, basil, even a bit of chili powder adds a wonderful taste.  Be creative and use you favorites.
Angie has been generous enough to allow me to share several of my ideas for healthy grilling.  Each Tuesday in the month of May, I'll be giving you some more tips for healthy grilling.  Coming up:
Healthy Grilling: Grilled Salmon on Planks
Healthy Grilling: Grilled Asparagus
Healthy Grilling: Grilled Corn on the Cob
Healthy Grilling: Grilled Pineapple
I look forward to sharing these with you–my mouth is watering already!
Scott loves to cook outdoors–his motto is "It always tastes better when it's cooked outdoors!" Check out his Outdoor Cooking Magic Tricks for tips and recipes for cooking delicious meals right in your own backyard.