Disclosure: This post may contain referral/affiliate links.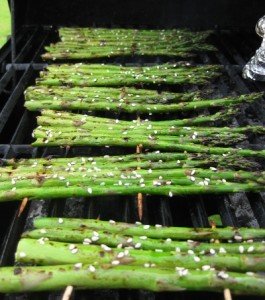 Last week I talked about healthy grilling and how to grill salmon on a plank.  Grilled vegetables is another great way to grill healthier foods and grilled asparagus is ideal.   Today I'm going to tell you a super easy way to grill asparagus.
To begin with, you need to prepare your asparagus by snapping the woody part off near the bottom of each spear.  If you hold the asparagus at the end with one hand and an inch or two up from the bottom with the other and just bend, the stalk will naturally break in the right place.
Next, make a glaze to brush onto the asparagus before grilling.  There are numerous possibilities for a glaze, so don't be afraid to try different flavors until you get one that you like.  One glaze that I like is made by mixing 2 tablespoons of sesame seed oil with 1 tablespoon of soy sauce.  Add a clove of garlic that has been minced and you are ready to go. You could also use olive oil with balsamic vinegar.  If you don't want to make your own, try your local supermarket for a variety of possibilities, such as teriyaki sauce or even hot sauce.
After you prepare the glaze, you need to do something to keep the asparagus spears from falling between the grill grates.  You can use a vegetable basket or you can do what I do, which is to make what I call an asparagus raft!  To make an asparagus raft, connect the asparagus spears together with toothpicks.  Line up 2-4 spears parallel to each other.  How many spears you use will depend on how thick they are.  Push a toothpick through one spear about 1″ from the bottom.  Add the next spear onto the same toothpick, leaving a slight gap between.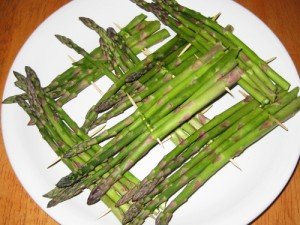 Add spears as you have room on the toothpick.  Repeat with a second toothpick 2″-3″ higher on the stalk.  It ends up looking like a raft made from asparagus!  Connecting them in this way will keep the spears from falling down between your grates and disappearing into the depths of your grill.
After you have connected the spears, brush the glaze onto both sides of the asparagus.  Sprinkle some coarse salt and freshly ground pepper onto the asparagus and put them on a hot grill.  Grill both sides of the asparagus until they just start to char.  It's hard to tell you exactly how long that will be, because it depends on the intensity of the heat in your grill.  Unlike meats, vegetables can take a little charring without danger to you.  In fact, it always seems to me like that slight charring occurs just about when the veggies get to their best flavoring.  Not only that, but they look great!
After grilling both sides, check to see if the asparagus is done.  I do that by bending one to see how flexible it is.  You should be able to bend it about 45 degrees without snapping.  If you can do that, they are probably done.  How long this takes is also hard to say, because it depends on your grill and how thick the asparagus spears are.  Thinner spears will likely be done by now.  Thicker spears may take a little longer.
If your asparagus is not quite done, move them to a location on the grill that is not right above the heat, or what is called the indirect zone.  Keep the heat going in the other section and close the grill lid.  This will keep enough heat inside your grill to complete the cooking, without burning the asparagus.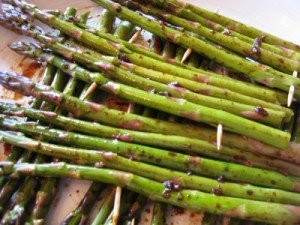 Once the asparagus is done, remove from grill and remove the spears from the toothpicks.  I like to finish by sprinkling some sesame seeds over the asparagus to give one last touch of flavoring and texture–it has a nice look too!
Veggies are delicious on the grill and are healthy for you.  Grilled asparagus is delicious, but why stop there?  Tomatoes, onions, corn, peppers, squash, zucchini, even carrots are all wonderful when grilled.  I've even grilled lettuce before!  Next week I'm going to share my all-time favorite, which is grilled corn on the cob.  Don't miss that post if you want to delight your family and friends at your Memorial Day BBQ!
This post is part of a series that I'm doing for Angie this month on healthy grilling.  In case you missed them, here are the other articles that I'm sharing:
Healthy Grilling Tips
Healthy Grilling: Grilled Salmon on Planks
Healthy Grilling: Grilled Corn on the Cob
Healthy Grilling: Grilled Pineapple
Scott loves to cook outdoors–his motto is "It always tastes better when it's cooked outdoors!"  Find out more ideas for grilling vegetables and check out his Outdoor Cooking Magic Tricks for tips and recipes for cooking delicious meals right in your own backyard.
What is your favorite grilled veggie?