Disclosure: This post may contain referral/affiliate links.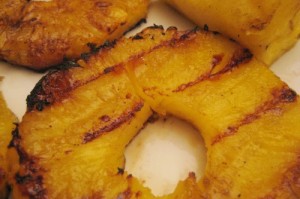 Over the last month that I've been guest blogging here on Losing It and Loving It, I've covered Healthy Grilling Tips, Grilled Salmon on Cedar Planks, Grilled Asparagus, and Grilled Corn on the Cob.  And now it's time for dessert!  Grilled fruit is wonderful on the grill.  Grilling brings out the natural sugars in the fruit and caramelizes them, which adds a great flavor.
Grilled pineapple is especially delicious, looks great when grilled, and is easy to do.  Your dinner guests will love the flavor that is brought out when you cook pineapple on the grill.
When grilling pineapple, prepare it by cutting off the top and outer skin and coring.  You can either cut the pineapple into 3/4 " slices or cut into wedges by slicing the pineapple into quarters from top to bottom, and then cutting each of the quarters into four pieces.  You'll end up with pineapple wedges.
You can grill pineapple as is on the grill, or you can add a glaze before or after cooking to add another layer of flavor. I find that adding the glaze before cooking tends to soften the flavor a bit, whereas adding it the pineapple after grilling will result in a stronger flavor from the glaze.
Some possibilities for glazes include:
3 tablespoons of honey and a tablespoon of lemon or lime juice
1 tablespoon of melted butter, 1 tablespoon of brown sugar, and 1/8 tsp of ginger
2 tablespoons of honey, 1 teaspoon olive oil, 1 tablespoon lime juice, 1 teaspoon cinnamon
You can also dip the pineapple into a liquid such as coconut milk, melted butter, or even regular milk and then into a sugar-cinnamon mixture.
Before you put the pineapple on the grill, you should coat the grill grates with oil.  Put the pineapple on a hot grill and cook for about 4 minutes on each side.  Like most vegetables and fruits, I find that the flavor is best when you grill until there is a slight charring.  Don't over-cook the pineapple or it will turn mushy.
When it's done, remove the pineapple from the grill and serve; a scoop of fat-free frozen yogurt or fruit sorbet makes a nice addition.  It's hard to imagine a nicer dish to end your barbecue with.
The same techniques that I've listed above can also be used with a number of other fruits.  I've grilled apple slices, peaches, even bananas!  You can grill them as is, but they generally benefit from a bit of extra flavoring in the form of a glaze–it just seems to bring on some added flavoring that really enhances the fruit.
If you haven't grilled fruit before, you don't know what you are missing.  I hope that you'll try it next time you are heading out to your grill.
This is the last of this series of healthy grill tips and ideas.  It's been fun and I hope that I've given you a few ideas of something different to try the next time you grill.
See below for all the other posts that I've written for this series:
Healthy Grilling Tips
Healthy Grilling: Grilled Salmon on Planks
Healthy Grilling: Grilled Asparagus
Healthy Grilling: Grilled Corn on the Cob
Scott loves to cook outdoors–his motto is "It always tastes better when it's cooked outdoors!"  Check out his Outdoor Cooking Magic Tricks for tips and recipes for cooking delicious meals right in your own backyard.