Disclosure: This post may contain referral/affiliate links.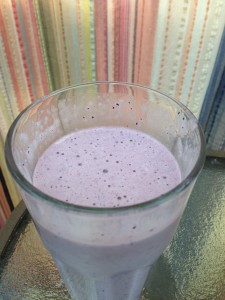 This week I made some tasty fruit shakes.  I'm calling them that because I bought a malt/shake metal mixing cup.  I love this thing!
So simple to make a healthy afternoon snack with just an immersion blender and shake cup.  I'm posting them all on Instagram too. If you aren't following me there yet, stop on by.
And I have other healthy smoothies posted on the blog like a Heavenly Berry Smoothie, Get Well Green Smoothie, Blueberry Green Smoothie and more.
I LOVE smoothies if you couldn't tell!  So please share any links to smoothie recipes you might have on your blog.
Fruit Protein Shake for 2
Blueberries
Strawberries
Banana
Almond Milk
Ice
1 scoop chocolate whey protein powder
and a similar one…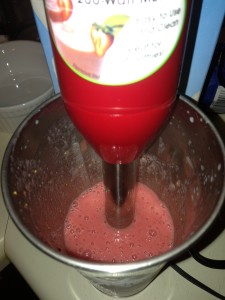 Purple Berry Shake
Blueberries
Strawberries
Almond Milk
1/2 serving protein powder
Ice
Nothing too exciting but definitely great taste.  Oh and I made one with just strawberries, banana and ice. That was good too.  And much better than the afternoon coffee that I really wanted.
What are your favorite smoothie ingredients?