Disclosure: This post may contain referral/affiliate links.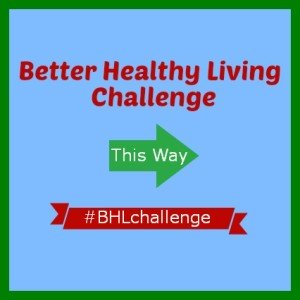 The Better Healthy Living Challenge is live!  Just a bit behind in posting since I was traveling home from an amazing vacation. I'll tell you more about that in another post.
The details for this months challenge are below.  Glenneth and I sure hope you'll join us.  I'm so excited to have her join me as a co-host this year.  You can read more about Glenneth AND get the buttons/banner for the challenge here.
There are going to be 4 different challenges this month. Each week we'll focus on something different. You can find the topics below. And choose one or more things that will challenge you to live a healthier life.
The topics are:
Week 1: Fitness (run faster/longer, workout 3 times a week, walk 20 minutes a day)
Week 2: Nutrition (no fast food, drink more water, add more fruits/veggies, take your vitamins)
Week 3: Health (get more sleep, take time out for yourself, set up a long awaited doctor's appointment, have family dinners)
Week 4: Pick any focus you might have struggled with from above and push yourself to accomplish more!
Who is this challenge for?
We have a mix of participants, from beginners to advanced so these topics work well for ANYone. We look forward to challenging ourselves too.
This post will be where you'll check in for week one.  Feel free to keep a conversation going in the comments below.  Or shout out your goals, struggles and SUCCESSES on social media using the hashtag #BHLchallenge.
Looking forward to an active and fit July.  How about you?
To have a chance at winning challenge prizes, all you need to do is use the hashtag #BHLchallenge. You can blog about, tweet, share on Facebook, Instagram and Google+. We will pull a winner for each prize at random from everyone who used the hashtag and/or you can comment on any of the weekly challenge posts like this one for WEEK 1.
Are you interested in sponsoring and/or donating a product/service for the challenge? Please get in touch with me! Your company/website/blog will be promoted throughout the month of July in various ways (here on the blog, Twitter, Facebook and more!).
Now get out there and get your FITNESS on this week.  Share your goals/struggles/successes below so we can help inspire one another.