Disclosure: This post may contain referral/affiliate links.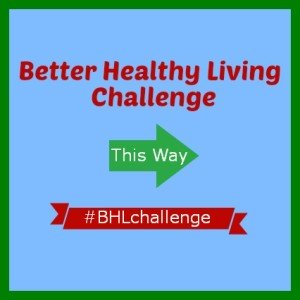 Better Healthy Living Challenge: Final Week
This has been a fun challenge!  I want to send a big thanks out to Glenneth from Let's Talk and Walk for co-hosting with me this year. I sure hope she'll join us in 2015!
AND a quick shout out to our prize sponsors:
Just because this challenge is coming to an end next week doesn't mean I'm not going to keep going. I'm looking forward to challenging myself personally in August with a walking AND water challenge.  Anyone care to join me?
Thanks to all of you who have joined us for the 2014 Better Healthy Living Challenge.  Last week we focused on health. For this final week of the challenge, we want you to choose to focus on something you might have struggled with from week 1 until now.  We want you to give it a big push as we finish out the month strong.
Go back to Week 1, Week 2 and Week 3 to see what you might have struggled with and make a goal this week to focus on that ONE thing.  And while you are there, if you forgot to check in that week, be sure to do that too.
Here's a quick refresher:
Week 1: Fitness
Week 2: Nutrition
Week 3: Health
For your chance to win the fun prizes I shared above, be sure to share your challenge updates using the hashtag #BHLchallenge on Twitter, Facebook, Instagram, etc. If you're not on any of these feel free to comment on any of the challenge posts. We like to keep things simple around here and not make you jump through hoops to enter to win.
Thanks again for participating and push through this last week. YOU CAN DO IT!
We hope to see you back in 2015!