Disclosure: This post may contain referral/affiliate links.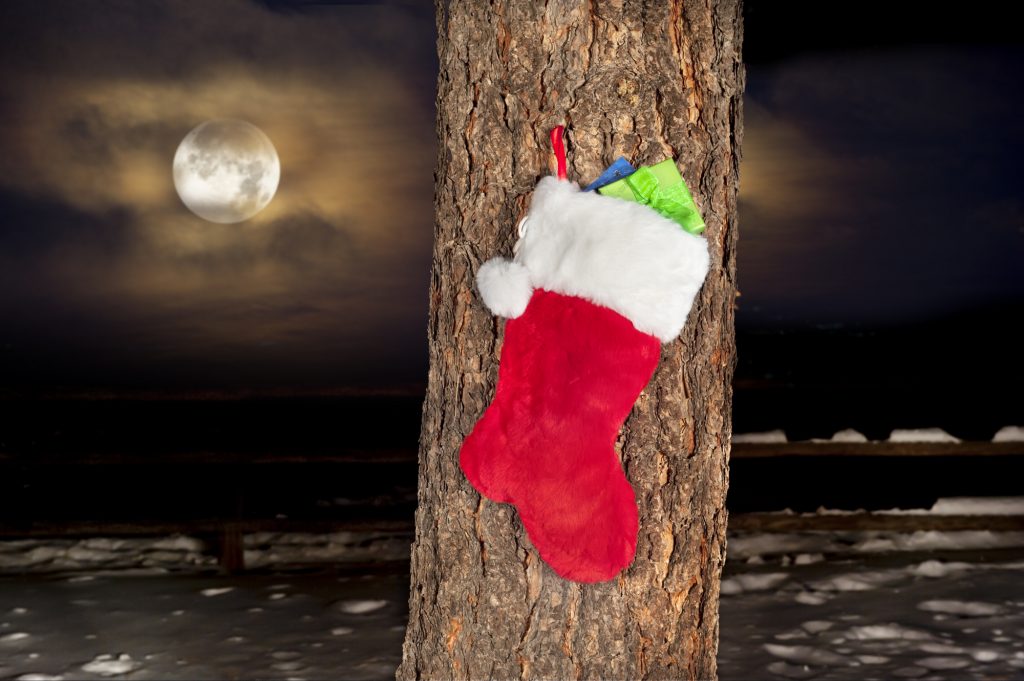 As I sit here looking for last minute stocking stuffers, I wanted to share ideas for camping stocking stuffers I found that would be a great addition this holiday season. I always try to stuff the stockings with useful gifts rather than candy or junk. I usually pack the stockings full but this year I'll be choosing practical and useful items that I think each recipient will love.
For those who are outdoorsy and do a lot of camping whether tent, travel trailer or RV, these ideas would be perfect gifts to fill those stockings. Always one of the hardest things for me to come up with so I figured I can't be the only one.
Camping Stocking Stuffers
These hanging lights are perfect for hanging in a tent or clipping to yourself when you go on a walk. If you lose power, they come in handy. They also come in a variety of colors.
Hand warmers like these are a big hit. Everyone can use those here in Illinois. They are safe and long lasting. All you need to do is to remove from package and shake to activate them. These are perfect for camping in chilly weather, any winter activities, tailgating, outdoor fitness and more.
These emergency whistles are great to have on hand no matter where you are. They are high pitch and come with a lanyard key chain. Great for camping, boating, hiking and more. We got them for both my dad and mom and I'm amazed how well they work.
We always have a variety of
carabiner's that are high strength, water proof and durable. These are great for keeping loose items together, hanging hammocks, carrying grocery bags (Kev uses this one lol).
Cooling towels are another great stocking stuffer. These towels work for camping, the gym, hiking and more, It's super lightweight and chills instantly. Just soak in cold water, wring out and snap. We bought some for a trip to Universal in Hollywood, California so it was nice for our granddaughter's to have if they got hot.
More Stocking Stuffer Ideas
Next is the portable solar power bank waterproof charger. We loved ours so much, we bought one for my dad. It can be recharged by a power outlet (micro USB) and sunlight. It's compact in size, sturdy and durable. We recommend it.
You should always have a waterproof phone pouch too. Remember to make sure it fits the phone that you have. Perfect for kayaking, boating and at the beach. I always test each one out with a paper towel first. Wouldn't want to ruin my phone!
I always laughed when mom gave out LED headlamps to everyone in the family. Until we needed them camping. This is an awesome gift. They are lightweight and adjustable. Pretty comfortable. And very useful.
Both adult and kids card games are a fun addition to stockings and definitely good to have while camping and travel in general. Do you have a favorite card game you recommend?
Marshmallow roasting sticks are great to have for camping. You can use them for marshmallows OR for hot dogs. They have wide mouth prongs good for roasting sausages too. These are extendable to 34" so you can roast from a distance and not burn yourself.
S'mores Fun for Anytime
Speaking of roasting marshmallows, if you don't want to start a fire or if it's raining and you're stuck in your tent, under the awning of your RV or in your easy pop up gazebo, you can use an indoor smore's maker.
Hopefully the stocking stuffers above have helped you with some last minute ideas. These are all currently showing Prime delivery. If you don't have Amazon Prime, you can try it out for 30 days. If you already have Amazon Prime, you know how amazing it is. Why not give as a gift this holiday season?
Are you part of Rakuten? Sign up TODAY to get cash back on your online purchases. Happy shopping.
What are some of your favorite camping stocking stuffer ideas or travel items in general?
More Gift Ideas
Pin this blog post to shop later.